RAKT – Ableton Racks by 7 SKIES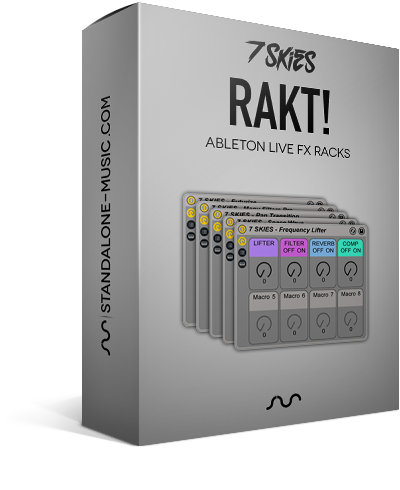 RAKT (FX Edition)
RAKT is a collection of 7 Ableton Live Racks designed by superstar producer and sound designer 7 SKIES.
These racks have been crafted to be the ultimate weapon when you need special fx transitions without having to waste time automating a bunch of parameters.
RAKT was designed to solve one of the biggest problems in music production:
Get shit done FAST in order to keep ideas flowing, without having to worry about loading plugins and automate several parameters just to get a cool sounding transition.
You can hear RAKT in action in countless 7 SKIES tracks, from his upcoming collab with KSHMR to his TALK REMIX, all the way to his music released on Spinnin Rec. and Armada.
And since we wanted to make sure you could take advantage of these great tools without any limitation, all of these Ableton Live Racks have been created using Ableton's bundled plugins.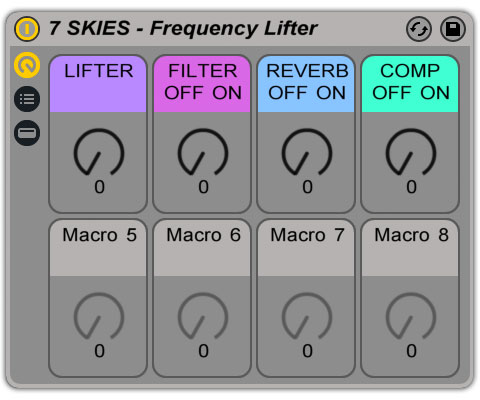 FREQUENCY LIFTER (Lite, Medium, Extreme)
This rack is fantastic to create really unique pitching effects, it also allows you to add low cut, reverb washout and compression to make the effect even more articulated and professional sounding.
Works great on buildups and to create tension.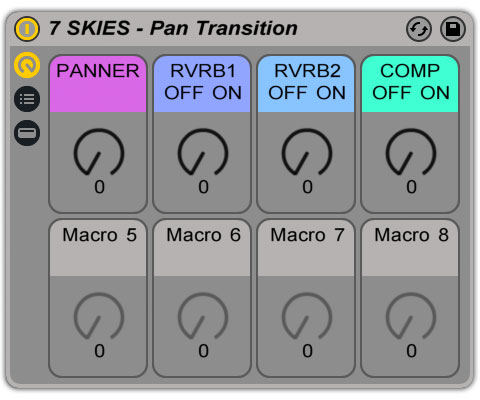 Pan Transition
This is 7 SKIES Favorite and most used rack out of this pack.
It's great for buildups especially on white noises and leads / pads groups.
It combines an auto-pan a hi-pass filter and a reverb, as you turn the macro up the auto-pan amount and rate increases while the filter washes out the low-end and everything fades into reverb.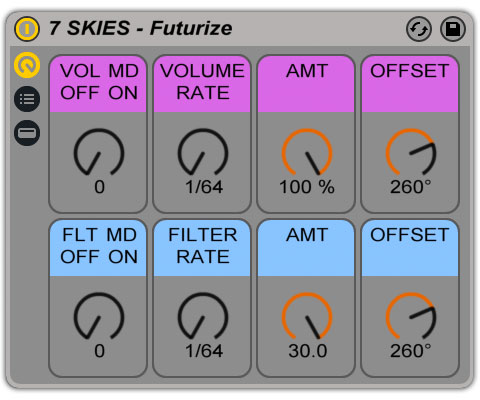 Futureize
The perfect rack to create the classic Future Bass wobbles.
The cool thing is that you can create this effect affecting the volume or the filter cutoff, or both if you want.
Everything is tempo synced, tempo rate, amount and LFO offset can be changed.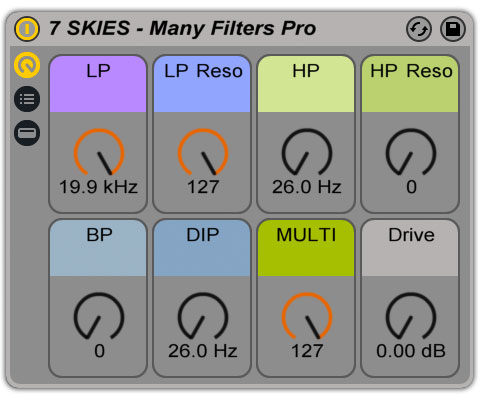 Many Filters (Pro, Lite)
Very Simple yet very useful, it combines different filter types and different filter setting so that you don't have to constantly find and load different filter on your channel.
Particularly handy are the Low-pass, Low-Pass Reso, Hi-Pass, Hi-Pass Reso.
Allowing you to have a normal cutoff effect or if you need it, a more resonant one, where the resonance is already mapped to be more prominent at certain filter positions and softer at others.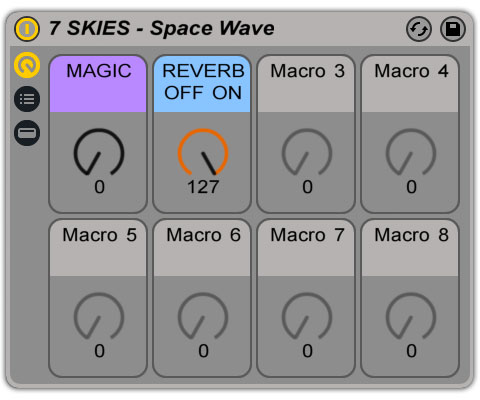 Space Wave
This effect is great when used to go from a drop to a break, perfect or reversed tonal sounds and pads.
It starts with a high rate volume modulation that becomes slower and fades into a reverb as you increase the macro.
We are stoked and thankful by the insane love and support you've given us so far, so we decided it's time to give back!
RAKT Fx Edition is free for you to download now!
Simply tell us which email we should send your download link to.
(if you don't receive the email,Please check your Junk mail)
IMPORTANT: PLEASE CHECK YOUR JUNK MAIL AFTER PURCHASING AS MANY MAIL SYSTEM FLAG THE GENERATED MAIL AS SPAM.
DELIVERY WILL BE WITHIN 24 HOUR PERIOD. BY PURCHASING SOUNDBANKS OR DOWNLOADING FILES FROM THIS WEBSITE YOU AGREE TO THE TERMS AND CONDITIONS .
Ableton Live is © Ableton AG. ALL RIGHTS RESERVED.